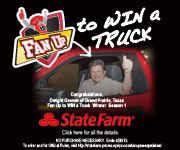 I don't usually post sweepstakes opportunities, but this one is just for Texas residents, so I thought I'd share! Texas State Farm Agents want to help you get to a better State®. They're looking for the most loyal fans in Texas to fan up and show their spirit because they're giving away a brand-new pickup truck! To enter, start here and fill out your information. The winner will be selected May 1. Five first-prize winners will be flown to a city in Texas (still undetermined at this time) and one of them will be selected to win a brand-new 2013 Ford F-150. You can see the full rules here.
You can enter once per day, so go here to file your entry and be in the running for a new truck. I know I'd love one…
Subscribe to FW on the Cheap by e-mail
and
become a fan on Facebook.