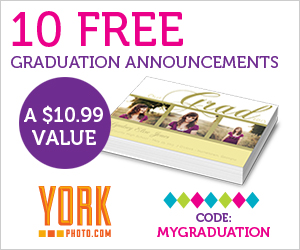 This is a great deal if you are a graduating senior or know anyone who is graduating from high school or college. For a limited time, York Photo is offering 10 free graduation announcements, delivered right to your door. Use the code MYGRADUATION at checkout to get this offer. This could be perfect for supplementing the announcements that you ordered from school. They're also great for ordering in place of the standard announcements, since you can customize them to include photos and a personalized message. Plus, as a bonus, you'll receive an offer for 40 free photo prints when you use this offer – great for printing photos of the ceremony!
Shipping on the 10 announcements will be $3.49, but other than that, they are absolutely free. Check out the deal here and get started on your cards!
Subscribe to FW on the Cheap by e-mail
and
become a fan on Facebook.